Ayia Napa
Ayia Napa is located on the south east part of Cyprus and is one of Europe's top summer destinations, as well as a famous clubbing town. Its amazing nightlife consists of more than 80 bars and clubs, with many events of world famous DJs performing there every summer and therefore attracts mostly groups of under 25 young singles. On the other hand, that is not all to it. Ayia Napa's magnificent long stretches of beach, with exotic turquoise waters and white sand, the various dining options ranging from traditional cuisine to international, the many luxury hotels, budget accommodation and of course its hidden beauty spots, makes it an ideal destination for families and couples.
One thing you should keep in mind when visiting Ayia Napa is that there is more than meets the eye. Phenomenal weather and perfect beaches have transformed this unassuming fishing village into every young hedonist's favourite European party-holiday destination. Gorgeous white-sand beaches and literally hundreds of clubs and bars have made it a Disneyland for clubbers the world over.
Places to Visit in Ayia Napa
Leave the beach for a day, wake up early and discover Ayia Napa's hidden gems. For example, the beautifully preserved monastery of Ayia Napa built in the 16th century by the Venetians, located right in the centre of the town. Part of the monastery is built underground, into a rock and right outside, there is an impressive 600 year old sycamore tree. In a walking distance, there is the modern Thalassa Museum, which is dedicated to the historical and social development of the island's sea life. Preserved aquatic species from the prehistoric era and a replica of the ancient commercial ship «Kerynia II», are some of its exhibits worth checking out.
A recent addition to the area is the beautiful outdoor Ayia Napa Sculpture Park. Sculptors from around the world have worked on some amazing works of art, that are exhibited out in the open. It is also worth visiting the Makronissos Archaelogical Tombs, consisting of 19 tombs from the Hellenistic and Roman era, the Venetian Aqueduct that used to supply water to the monastery and the rural churches, such as the Ayia Thekla Church and Ayia Mavri Chapel. Another place you must visit are the stunning sea caves or 'Palatia' at the eastern part of the town. They can be reached by boat or just walk there and go snorkelling or diving. And if you are a romantic, you should most definitely visit the Love Bridge and take photos with your loved one. Lastly, nothing beats the afternoon strolls in Ayia Napa's picturesque harbour.
Things to do in Ayia Napa
As Ayia Napa boasts numerous beaches, there are a lot of water sport stations where you can do jet ski, windsurfing, water ski, kayak, kite surfing, snorkelling and so on. To explore the area on a bicycle, there are a lot of interesting routes you can take, flat and mountain ones. Same goes for exploring on foot, where you can take one of the walking trails in various locations in the area. On the other hand, if you just want to have fun and relax, you can spend your days at one of the many beach bars, dancing and enjoying cocktails and local beers (Keo & Carlsberg)! For a fun day, away from the beach, it is worth checking out the fantastic Ayia Napa Waterpark, on the west entrance to the town. Waterpark's theme is the ancient Greek mythology and the park itself has won many international awards.
If you fancy swimming in various spots around Ayia Napa and Protaras, you can hop on, on one of the boat trips, that start their all day tour at the harbour. During the night, Ayia Napa is transforming into a party town. The streets and squares are packed with people, walking and enjoying their dinner and drinks. If you are not a clubbing person, or if you have children, or even if you are young at heart, it is worth visiting Parko Paliatso Luna Park. Before you leave town, stop by the 'I Love Ayia Napa' sculpture, located at the centre of the town and take a picture to remember!
Accommodation in Ayia Napa
Service and facilities were truly five star. Everything expected was provided. We were…
Possibly the most comfortable hotel I have ever stayed in while in Ayia Napa. Beautiful beach…
Overall a very good experience. Excellent private beach, good pool, good service…
Everything! Beautiful room, big, wide, comfortable bed, super wifi everywhere even on the beach…
Sea-view room was excellent! Nice, clean, and the view is simply amazing. Best food…
Another delightful holiday at the Nissi Beach, the latest of around twenty I have made since 1982…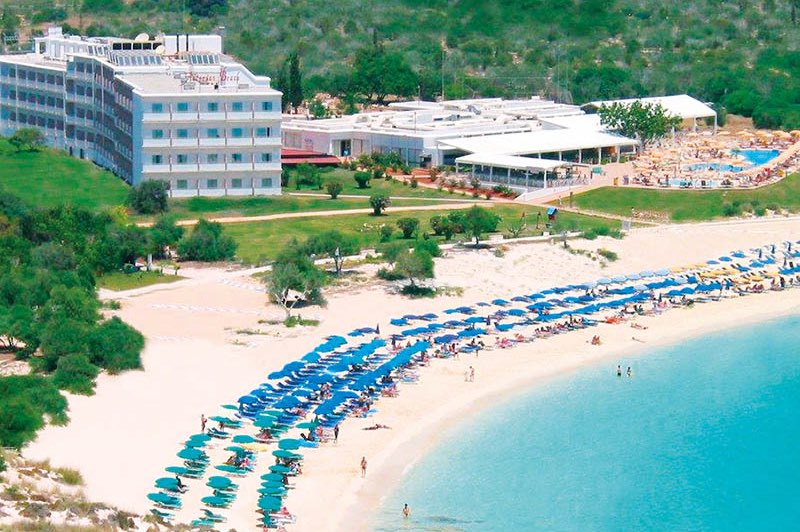 Staff were extremely helpful. Hotel fantastic, cleanliness exceptional and overall an absolutely…
A luxury villa in a tranquil location. You will not be disappointed with the quality…
Good location, bright and spacious villa, everything is new and clean) the sea is great…
The property was just perfect for us. Everything was as we expected. Very spacious villa…
Nice house, clean, facilities ok, the owner very nice. A little bit far from the center…
Nice apartment with a beautiful terrace. Full equipment and located near the beach (1 min by walk)…
Great apartment with a nice view with big terrace. Wifi is fast and stable. We really enjoyed…
What a holiday! beautiful, clean, modern house in the city center. 10 minutes by walking…
Excellent customer service, would highly recommend, and will definately return. Had an amazing stay…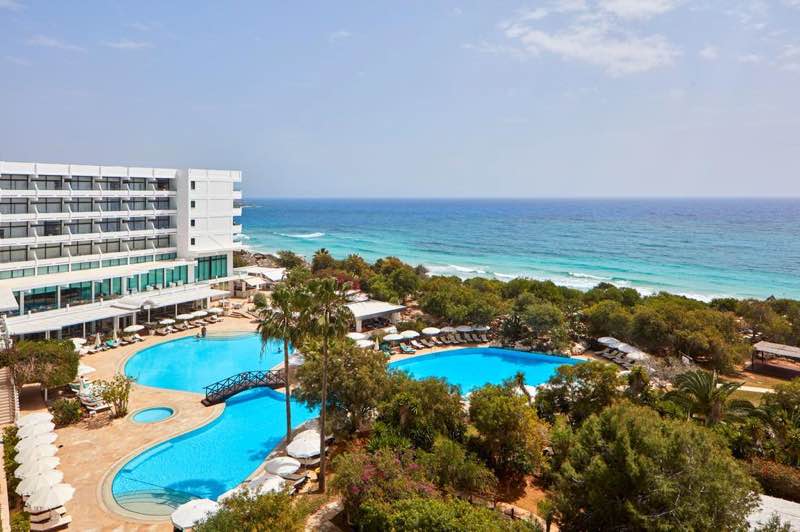 Book your room via our link below for minimum 7 nights from June till the end of August and Get: Free Larnaca Airport Transfers
To get the offer email us at info@cyprusbookings.com:
1. Your "Booking Number" from booking.com, to confirm your reservation
2. Your Name, Mobile Number, Flight Number
Our Taxi driver will be waiting for you at Larnaca Airport with your name on a sign.
Find your Stay on the Map
Ayia Napa Beaches
Ayia Napa has some of the best and most beautiful beaches on the island. The most famous beach in Ayia Napa is the one that appears in almost all advertising campaigns on Cyprus, the breath-taking Nissi Beach. Its pristine turquoise waters and golden sand are truly amazing. During the day Nissi Beach is packed with people, sunbathing, swimming or even dancing in one of its buzzing beach bars. Around that area, most of the beaches are similar to Nissi Beach. Makronissos, Lantas and Golden Beach, to mention a few. All of these beaches are fully organised with umbrellas and sunbeds rented by Ayia Napa Municipality and most of them, have their own beach bars.
Similarly, on the other end of the town, next to the harbour, you will find the Pantachou (Grecian Bay) beach, a 1.5 km long beach, with golden sand and turquoise waters, our favourite beach in Cyprus. In Ayia Napa almost all beaches are long stretches with quite shallow waters. Unlike Protaras, there aren't many small bays in Ayia Napa, but it is worth discovering those few ones such as Ammos tou Kampouri, Katsarka beach, Vathia Gonia beach and the gorgeous Ayia Thekla beach located 6 km to the west of Ayia Napa. Ayia Napa has 14 blue flag beaches.
Ayia Napa Restaurants
In the town of Ayia Napa, there many and interesting choices for dining. First of all, some of the oldest traditional taverns in the whole of Famagusta area are located in Ayia Napa. You must visit them, enjoy local delicacies and of course, the famous Cyprus Mezze! Secondly, if you fancy Mexican, Chinese, Thai, Greek, Middle Eastern, Japanese, Italian, burgers, pub food, hot dogs, Indian, Mediterranean or even Polynesian cuisine, there many options to choose from. Ayia Napa's culinary scene has been upgraded impressively in the last ten years and now there are quite a few, really good restaurants, casual and formal, worth checking out. Apart from the ones, in and around town, there are some good restaurants inside in some of Ayia Napa's finest hotels, in which non-residents can also dine in.
Before you head to the beach grab a bite (or take some food with you) in one of the many bakeries in town. You should try the local cheese pie made with halloumi and fresh mint, the traditional olive pie made with black olives or even take with you a sandwich with halloumi, lountza (local cured pork meat) and tomato. To dine in, many of the restaurants and snack bars are open throughout the day, although quite a few open around 5- 6 pm, just in time for early dinner. As for the choices, there is a wide range of cuisines being served in the town's eateries.
Ayia Napa Bars & Clubs
It has been more than a decade, that Ayia Napa was voted one of Europe's top clubbing summer destinations. During the day, Ayia Napa is all about the beach, although partying starts early at the beach bars. During the night though, things change. The neon lights take over the Ayia Napa sky and the town is been transformed into a huge party town! Yes, Ayia Napa is big on nightlife. There are more than 80 bars, pubs and clubs where you can dance until the early morning hours. In the centre of the town, right over the Ayia Napa Monstery, there is a large area filled with big clubs, most of them themed ones i.e. a Flintstones' one, a jungle-like, a castle-replica and so on.
A lot of dance parties, are being organised, inside these clubs, throughout the summer season, many of them guest-hosting famous DJs from around the world. As for the music? Hip Hop, R 'n' B, Trance, House, you name it. Ayia Napa is the place to attend some crazy and unforgettable parties! And if you fancy some karaoke, or live acoustic music, or dance shows, there are plenty of them too. Do you, however, want something on the calmer and quieter end? Worry not! Lovely rooftop bars around town, playing ambient and lounge music, are ideal to spend your summer nights, while drinking cocktails and why not, enjoying some shisha! One thing is for sure, Ayia Napa is a town than never sleeps!