Larnaca Travel Guide
Where History Greets the Waves
Dive into our complete Larnaca guide, exploring top attractions, culinary delights, serene beaches, and local secrets. Unlock the ultimate Larnaca experience with expert insights.
Overview
Nestled on the southeastern coast of Cyprus, Larnaca welcomes every visitor with a blend of ancient allure and modern charm. As one of the oldest continuously inhabited cities in the world, Larnaca holds tales of bygone eras within its historic heart while embracing the new with its modern marinas and vibrant nightlife. The city's picturesque seafront, Finikoudes Beach, extends a warm invitation for strolls, with the calming waves of the Mediterranean Sea adding rhythm to your explorations. As you wander through the city, the St. Lazarus Church is a testament to Larnaca's rich historical tapestry. At the same time, the Hala Sultan Tekke Mosque echoes the serenity of the tranquil Salt Lake.
Embrace the rhythmic beating of Larnaca's heart as you delve deeper into its cultural landscape. The city's museums and art galleries offer a voyage through time, each artefact narrating tales of a glorious past. When the sun takes a bow, Larnaca's nightlife steals the spotlight, with its bars and clubs promising lively evenings. The culinary scene here is a celebration of flavours, with local taverns serving delectable Cypriot fare. Every market and boutique in Larnaca is a treasure trove, offering souvenirs that carry the essence of Cyprus. Whether it's the call of history, the allure of the azure waters, or the promise of unforgettable adventures, Larnaca awaits with open arms to offer a medley of experiences that etch everlasting memories.
Best Time to Travel to Larnaca
Larnaca basks in a Mediterranean climate, offering a warm embrace with its hot, lengthy summers and a gentle caress during the mild winters.
Spring (March to May): Springtime in Larnaca is a breath of fresh air. The temperatures are amiable, allowing the city's floral landscapes to flourish. The tourist tide is yet to reach its zenith, making it a prime time for strolls through its historic sites and serene beaches. The advent of spring also heralds the blooming of wildflowers, painting the city in a palette of vibrant hues. It's the perfect milieu for those seeking a calm retreat intertwined with exploratory jaunts.
Summer (June to August): Summer unveils Larnaca in its full vivacity. The sun casts a golden glow on the city, beckoning beachcombers and water sports enthusiasts. It's when Larnaca's lively spirit becomes evident, with its beaches teeming with sun-seekers and its nightlife pulsating to the rhythm of summer. It's a bustling period, so securing your accommodations in advance and having your sunblock handy is advisable.
Autumn (September to November): As summer's fervour ebbs, autumn steps in with a softer allure. The city breathes a sigh of relief with milder temperatures, while the Mediterranean Sea retains its summer warmth, inviting for pleasant swims. It's a time when the city's vineyards buzz with the excitement of the grape harvest, and the local wine festivals provide a taste of Larnaca's rich viticultural heritage.
Winter (December to February): Winter in Larnaca is a whisper compared to the European winter's howl. The temperatures are more relaxed with sporadic showers, yet the city retains a tranquil charm. It's a period of quiet reflection on the beaches and leisurely exploration without the tourist bustle. Moreover, the proximity to the Troodos Mountains opens up avenues for winter sports for the adventurous at heart.
In every season, Larnaca unfolds a different narrative, each with its unique allure. Whether it's the warm embrace of the sun, the historic whispers in the cool breeze, or the gentle lapping of waves against the shore, Larnaca awaits to etch unforgettable memories in the heart of every traveller.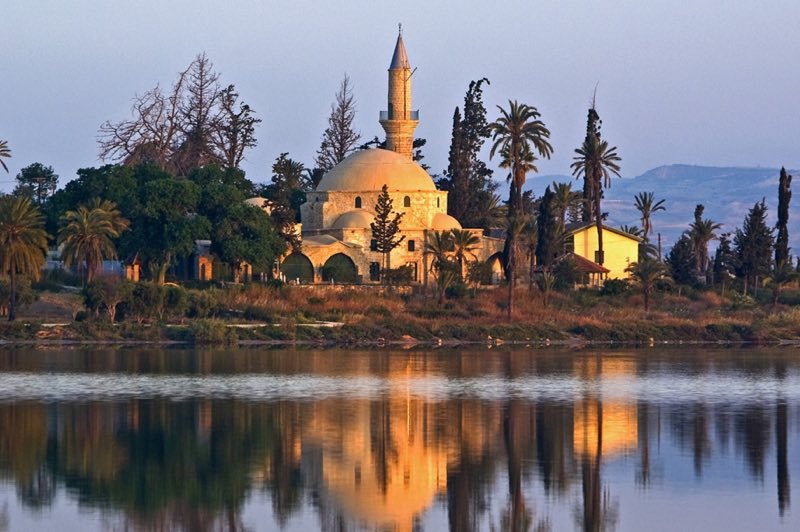 Where to Stay
In Larnaca, each neighbourhood has its distinct character and charm, and your choice of accommodation allows you to immerse yourself in the city's authentic atmosphere. Regardless of where you decide to stay, you'll be welcomed with the same genuine Cypriot hospitality that will make your visit unforgettable. Let's explore some specific accommodations that you find intriguing!
Larnaca Town's Luxurious Resorts
For those seeking the epitome of comfort and impeccable service, Larnaca Town's luxurious resorts are poised to impress. The Radisson Beach Resort Larnaca offers elegance and sophistication through its elegant rooms, private beach access, and exquisite dining experiences. Alternatively, the Golden Bay Beach Hotel spoils its guests with lavish rooms, a sprawling pool area, and a pampering spa, ensuring an extraordinary stay.
Hidden Gems: Mid-Range Accommodations
If you're looking for quality accommodation at a reasonable price, Larnaca Town offers a plethora of options. The Livadhiotis City Hotel provides well-appointed rooms, a serene pool area, and exceptional service, all conveniently located in the city's heart. Alternatively, the Mercury Beach Resort offers a unique fusion of stylish design elements and a relaxed beachfront ambience.
Unforgettable Holiday Rentals
For those who prefer a home-away-from-home experience, Larnaca Town's holiday rentals are the perfect choice. The Sun Hall Beach Hotel Apartments offer spacious living areas, fully-equipped kitchens, and an ideal location near crucial attractions. Additionally, the Cactus Hotel provides a warm and homely atmosphere, with a refreshing swimming pool and proximity to the town's stunning beaches.
Discover Larnaca Town on a Budget
If you're a budget-conscious traveller who refuses to compromise comfort and location, rest assured that Larnaca Town has you covered. The Eleonora Hotel Apartments offers affordable yet stylish accommodations in the city's heart. Alternatively, the Frangiorgio Hotel provides budget-friendly rooms, a welcoming pool area, and a location just moments away from the beach.
Larnaca Town guarantees a warm reception and a comfortable stay, regardless of your budget or preferences. Remember, in this lively town, each accommodation choice brings you closer to another exciting experience. Enjoy your stay!
Ready to secure your dream accommodation in Larnaca? Make your reservation hassle-free using our interactive map below, where you can explore each hotel's location. Alternatively head over to Booking.com to finalise your plans. Enjoy your stay!

Things to Do in Larnaca
With its quaint charm and rich history, Larnaca unfolds a vibrant tapestry of adventures waiting to be discovered. Its pristine beaches, like Finikoudes and Mackenzie, offer the perfect canvas for sun-soaked afternoons. At the same time, the ancient city-kingdom of Kition and the revered St. Lazarus Church transport you through the annals of time. The tranquillity of Salt Lake and the historic Hala Sultan Tekke Mosque on its shore provide a serene retreat amidst the urban vibrance. Further enchantment lies in the city's vibrant festivals, delectable local cuisine, and the warm embrace of its locals.
In Larnaca, the horizon of adventures extends far beyond the city's charming streets. A plethora of curated tours and excursions are at your disposal, ready to unveil the multi-faceted beauty of the region. These specially curated tours from Viator.com offer an in-depth exploration of Larnaca's essence, capturing its coastal, inland, and aquatic allure.
Whispers of Adventure: Sea and Land Quests
In Larnaca, the adventure beckons from every corner, inviting you to explore land and sea. Begin your journey with the Grand Tour Full Day Jeep Safari from Larnaka Bay, where rugged trails open up to the wild heart of Cyprus, offering a blend of nature and adrenaline. The adventure escalates with the Troodos 4X4 Safari Tour from Larnaca, a thrilling venture through off-road trails leading to the winemaking village of Omodos, where ancient tales intertwine with luscious vineyards.
Cultural Weaves and Culinary Feasts
Larnaca's cultural richness unfolds through its age-old traditions and delectable local flavours. Embark on the Vino Venture: Explore With A Local – Troodos Mountains thru Wine!" tour, a journey through the essence of Cypriot winemaking, with each sip narrating a tale of the island's rich history. The adventure of taste continues with the Village Venture: Troodos Mountains Food & Wine Small Group Day Tour," where visiting traditional product workshops in the quaint villages of Troodos mountains promises a culinary escapade through the heart of Cyprus.
Historical Footprints: A Journey Through Time
History in Larnaca is a living narrative waiting to be explored. The Full Day Tour in Paphos: Trip To The Past offers a voyage through time, where each ancient ruin and artefact tells a story of bygone eras. Complement this historical exploration with the Full Day Tour in Troodos Mountains: Villages & Waterfalls," a journey that not only unveils the rustic charm of Cyprus but also its rich historical tapestry through the serene landscapes of Troodos mountains.
Booking Your Adventure
Embark on a seamless adventure in Larnaca by booking your tours and activities through Viator.com. With just a click, Larnaca's historic trails, serene waters, and rustic charm are ready to unfold tales of a land where past and present dance in a timeless rhythm. Your blend of discovery and enchantment in Larnaca awaits.
Discover the Splendor of Larnaca's Beaches
Larnaca, nestled along the stunning coastline of Cyprus, beckons you to uncover its captivating beaches and pristine turquoise waters. Delight in the seamless fusion of natural beauty and cosmopolitan charm as you explore the miles of picturesque shorelines. Picture yourself soaking up the sun on the velvety sands of Finikoudes Beach, a cherished haven adorned with palm-lined promenades and inviting azure shallows. Situated in the heart of Larnaca, this beach offers many dining and entertainment options for a blissful day by the sea.
If you want to combine partying until the late hours and spend some time at the beach, the Mackenzie Area is ideal. Packed with restaurants, cafes and bars, this is the place to swim, sunbathe, see and be seen. Kastella Beach awaits, boasting a lively ambience with its beach bars and thrilling water sports activities. Whether you crave adventure or desire to unwind, this beach caters to every taste.
Traverse the scenic Dhekelia road to the east, and you'll stumble upon Yannathes Beach in Voroklini village, followed by the captivating CTO Beach and Dasaki Pylas Beach adorned with verdant trees in Pyla village. These blissful locations, most of which have been awarded blue flags, offer a range of water sports, lifeguards, facilities, sunbeds and lounges for rent.
Lastly, for ultimate tranquillity, we recommend venturing to the remote beaches near Larnaca. In the nearby village of Pervolia, you'll find the charming Faros Beach, nestled close to a picturesque lighthouse. Additionally, there's the alluring Mazotos Beach, the serene Alaminos Beach, and a small bay in the enchanting Agios Theodoros village. Larnaca's remote beaches offer serenity and seclusion, providing a sanctuary away from the bustling city.
Larnaca's beaches are more than mere sandy stretches; they offer enchanting experiences. Each grain of sand, every ripple in the water, and every sunset on the horizon tell a unique story that will mesmerize your senses. Immerse yourself in the rich tapestry of Larnaca's captivating beaches.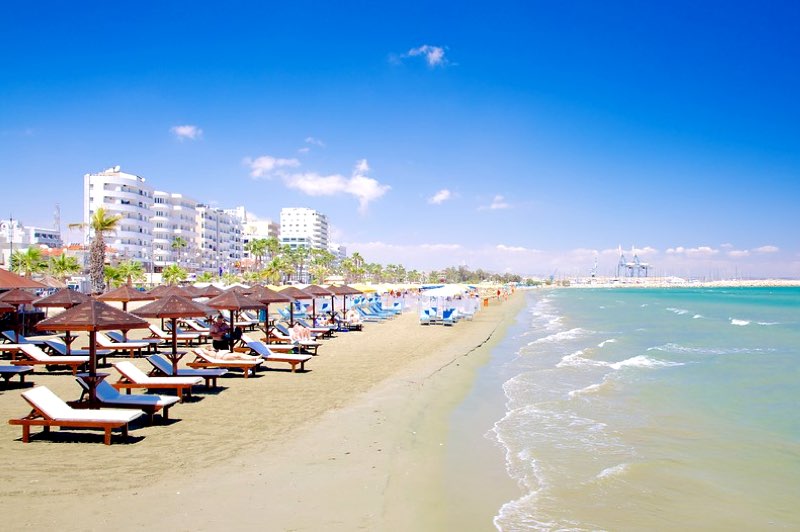 Shopping in Larnaca
In the heart of Cyprus lies the quaint city of Larnaca, a burgeoning retail paradise where traditional markets effortlessly meld with contemporary boutiques. The city's retail heart beats strongest within its Old Town, Finikoudes Promenade, and the modern edifice of Metropolis Mall of Larnaca​. Each locale offers a unique shopping expedition waiting to be embarked upon. Now, let's delve into the kaleidoscope of shops that await in Larnaca.
Nestled amidst the narrow lanes of Old Town, you'll stumble upon charming boutiques and handicraft shops, each telling tales of Cyprus' rich heritage. Venture into shops like Estia Art Shop, where the shelves are laden with handcrafted home decorations and traditional souvenirs. Every piece here is a narrative waiting to adorn your home​​.
As you stroll along the Finikoudes Promenade, the soft murmur of the Mediterranean accompanies you to modern boutiques and speciality stores. This is where contemporary fashion takes a bow, with stores housing international brands. The star of the show is Zenon Kitieos Street, a fashionista's paradise with stores showcasing haute couture from brands like Armani Jeans, Hugo Boss, and Burberry. And the cherry on top? The prices here are significantly lower than other European cities, making high fashion astonishingly accessible​​.
Are you craving a modern shopping spree? Metropolis Mall of Larnaca is your go-to destination. This modern complex is a microcosm of global retail, offering a plethora of international brands and local boutiques. It's a place where the latest trends are at your fingertips, ready to transform your wardrobe​​.
Larnaca's retail scene also celebrates the sparkle of jewels at places like Every Day Is A Gift, where luxury and ethnicity dance harmoniously, offering high-end and budget-friendly jewellery​​.
When it comes to revelling in Larnaca's artistic flair, Bluchip Gallery is a realm where art and commerce blend seamlessly. Not only can you purchase exquisite local art, but you can also immerse in cultural events amidst a historic setting​​.
The shopping voyage in Larnaca is not just about retail therapy but a journey through the city's rich cultural tapestry, with every shop being a doorway to Cyprus' enthralling narrative. So, are you ready to traverse through Larnaca's retail wonderland?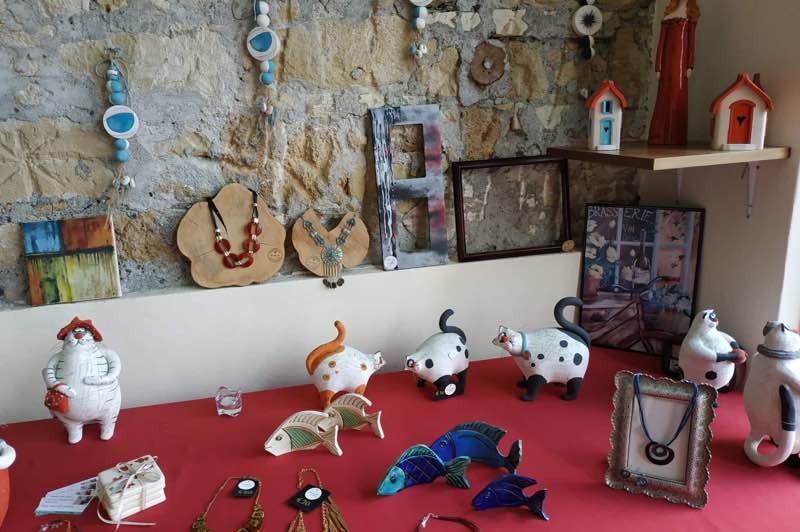 Where to eat in Larnaca
With its serene coastal charm and rich history, Larnaca offers a culinary landscape as inviting as its picturesque beaches. Larnaca serves an array of flavours that cater to every palate, from the sun-kissed shores to the vibrant city centre.
Traditional Tavernas
Embark on a gastronomic adventure in the cosy tavernas of Larnaca, where the spirit of Cyprus comes alive. At the heart of this city lies Vlachos Tavern, a stone's throw from the famous Finikoudes Beach. Here, indulge in various traditional Cypriot and Greek delicacies, where each dish narrates a story of culinary heritage. For a rustic experience, venture to To Kazani Traditional Tavern in Aradippou village, known for its authentic Cypriot meze and the warm hospitality that echoes the island's traditions.
Seaside Dining
Larnaca's coastline is dotted with eateries offering more than just a meal – an experience. Pelagos Mediterranean Bar & Grill is a haven for seafood lovers, boasting a menu of fresh, locally sourced seafood dishes complemented by panoramic sea views. For a laid-back beachside vibe, head to McKenzie Beach, where restaurants like Lush Beach Bar Resto serve a fusion of Mediterranean and international cuisines, perfect for a relaxing meal to the soundtrack of gentle waves.
Contemporary Cypriot Cuisine
For those seeking a modern twist on traditional flavours, Larnaca's contemporary dining scene won't disappoint. At To Kafe Tis Chrysanthi's, you'll find an innovative approach to Cypriot cuisine, blending traditional recipes with modern cooking techniques. Meanwhile, in the city's heart, the chic Rebuke Lounge offers a fusion of local and international dishes set in a stylish, urban environment.
Wine and Dine
Every culinary journey in Larnaca is complete with exploring its wine culture. In the city centre, The Oak Tree Wine Cellar is a treasure trove for wine enthusiasts, offering an impressive selection of local and international wines. Pair your wine with exquisite dishes at the nearby Aldente Cucina Italiana, where Italian culinary artistry meets the finest Cypriot wines.
In Larnaca, every dining experience is a journey through the rich tapestry of Cypriot culture, a celebration of flavours that embody the island's soul. So, come and savour the culinary delights of Larnaca, where every meal is a testament to the city's vibrant, multifaceted essence.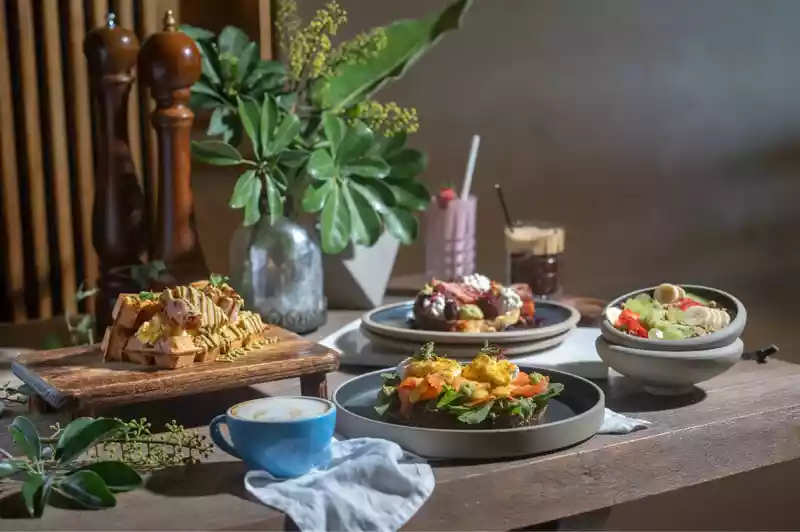 Nightlife in Larnaca
As Larnaca sheds its daytime warmth, the evening air is charged with anticipation. This city, known for its balmy days, unfurls into a vibrant tapestry of nightlife where the hum of the Mediterranean sets a rhythmic backdrop for both the seeker of peace and the purveyor of revelry. In Larnaca, as night cloaks the sky, the cityscape is a chessboard of lights; some squares are bathed in the tranquil glow of bars, while others pulsate with the vibrant colours of bustling nightclubs.
A Toast to Tranquility: Bars in Larnaca
The sunset in Larnaca is not merely a daily occurrence but an event celebrated with avant-garde music and an effervescent party spirit. It's this fusion of calm and excitement that characterizes Larnaca's charm, a city where bars like Blue Pine become the nucleus for sports fans and conversations over a varied selection of liquors and a global culinary spread.
In the nooks of the city, close to the historical Lazarus Church, the Secret Garden Wine & Coffee Bar offers a respite from the ebullience of the town. It's a place where time slows, and the murmur of intimate dialogues blends with the clink of wine glasses, a harmonious prelude to the night's youthful escapades.
Dance Till Dawn: Clubs in Larnaca
As the night matures, the city's heartbeat quickens at places like Club Deep, situated on the radiant Finikoudes Promenade. Here, the party spirit ascends to zenith as DJs weave a tapestry of sound from Greek hits to RnB, creating an arena where every night is a festival of music and dance. Not far from this pulsating energy, the Geometry Club is a testament to the city's modern verve, casting geometric shadows through its colourful interior, inviting revellers to lose themselves in the geometry of beats and lights.
The crescendo of Larnaca's after-dark symphony might reach its peak at Ammos Beach Bar, where the rhythm of the night beckons until dawn. Here, every moment is an encounter with the infinite, and each beat is an invitation to celebrate the present under the gleam of stars.
In Larnaca, as the canvas of night is painted with experiences ranging from serene to sensational, each venue, whether a bar's gentle embrace or a club's fervent rush, threads together to form a single, enthralling narrative. This city, after dark, is a haven for those who seek stories written in lights, music, and laughter, each corner promising the dawn of new memories.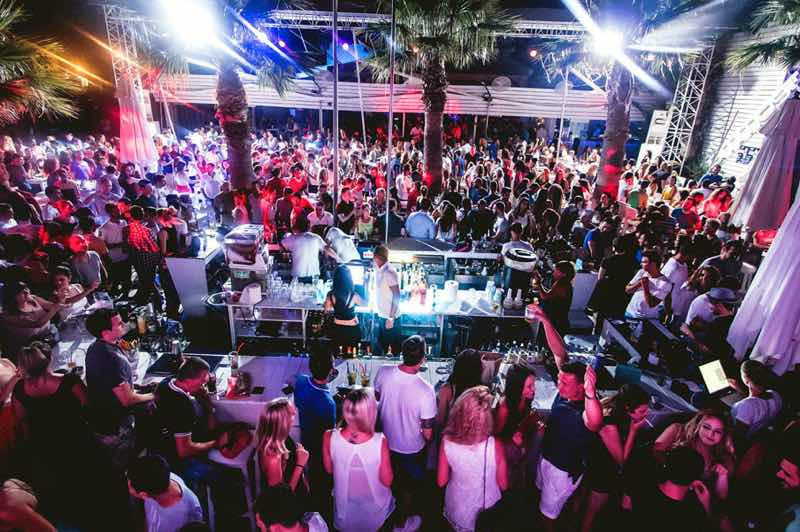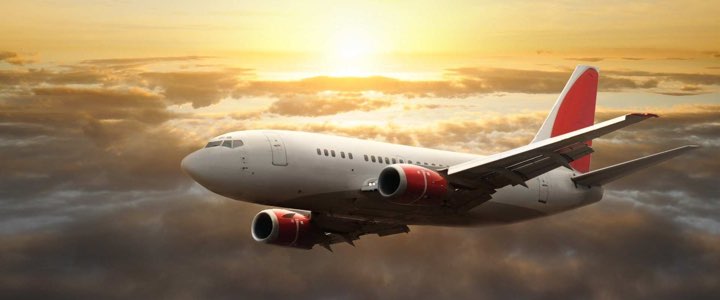 Book Flights
Search and find the best flight deals online Compare airfares from 728 airlines and hundreds of travel sites.
Search Flights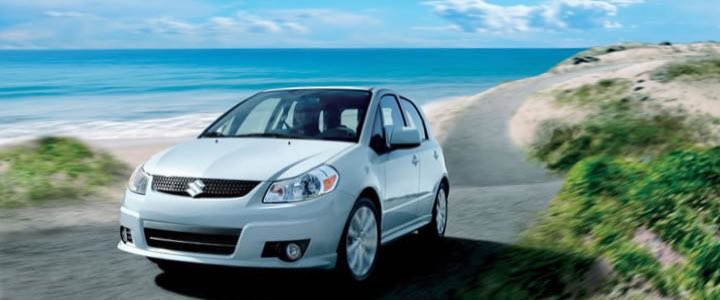 Book Car Rentals
Explore the island on your pace with a car. Search and compare 900 companies for the best car rental deals
Search Car Rentals
Explore Nearby Destinations