Protaras
Located on the south east coast of Cyprus, Protaras is one the island's most popular summer spots. Part of the small town of Paralimni, Protaras is adjacent to buzzing Ayia Napa. A destination for sea lovers, it boasts splendid beaches and pristine waters. There are tens of beaches, from hidden bays to long stretches of white sand.
Protaras is an ideal holiday destination for families and couples because of its many hotel and apartment options. From budget accommodation to 5 star hotels, there's something for everyone. Furthermore, the wide variety of restaurants, the picturesque taverns and the fish restaurants by the sea, the modern bars, the traditional pubs and the laid back cafes make Protaras a perfect resort town to wind down and enjoy the lazy days of summer.
Places to Visit in Protaras
Protaras is mainly all about the beach. However, if one day you decide not to hit the beach, there are quite a few things you can visit and explore. For a relaxed day (even better, during the afternoon), stroll down the beautiful newly built pedestrian road along the main coastline of Protaras. In various spots along the way, there are kiosks to sit down and enjoy the sea view, stations to hop on a boat and take a mini tours of Protaras' beaches and playgrounds for children. Families will have a fabulous time at the Ocean Aquarium where they can watch turtles, crocodiles, penguins and many more creatures of the sea. For the romantics, the sea cave right below the picturesque Ayii Anargyri Chapel over Konnos Beach is a must visit. And if you are up to it, walk up the more than hundred steps to get to the beautiful Saint Elias chapel situated on Protaras' highest hill.
If you leave Protaras in a few minute, you will find yourself in the nearby villages of Derynia, Frenaros, Avgorou, Liopetri and Sotera. There are some impressive churches in these villages, such as the one in Derynia dedicated to Mary, built in the 17th century, or the church of Saint Andronikos in Frenaros, built in the 12th century. On Saturdays, in Sotera village there is an open market, with farmers selling quality vegetables and fruits in very good prices. During the night, there are some excellent taverns and kebab places in these villages, that are worth visiting. And of course, the town of Paralimni, has a good choice of shops, restaurants and cafes.
Things to do in Protaras
In Protaras, life is a…beach! You can spend your holidays, hopping from one beach to the other, kicking back and just relaxing, sunbathing or even enjoying drinks, fresh juice or a 'frappe' coffee at one of the many Protaras' beach bars. On the other hand, if you are into sports, there are several water sport stations situated in the area's most popular beaches. You can do jet skiing, kite surfing, kayaking, water skiing, paragliding and snorkelling or even take classes in scuba diving near Green Bay. If you want to do some sightseeing, the picturesque harbours of Ayia Triada and Ayios Nicolaos are beautiful.
What would be really interesting to do though, is explore the area's nature by going hiking in one of its Nature Trails (including the European Walking Route E4 that starts from Gibraltar), set by Cyprus Tourist Organisation. Some of these trails include the Konnos-Ayii Anargyrii linear coastal trail, the Aphrodite trail or the Konnos- Spilia tou Kyklopa (Cyclop's cave) circular nature trail. Finally, you should most definitely visit Cape Greco's National Forest Park, that lies between Protaras and Ayia Napa. You will walk through an amazing natural landscape, you will enjoy the beauty of Cyprus flora (there are around 300 different species) and fauna (wild birds and small animals), you will swim or scuba dive in amazing crystal blue waters and you will have the opportunity to have truly spectacular views of Ayia Napa and the sea.
Accommodation in Protaras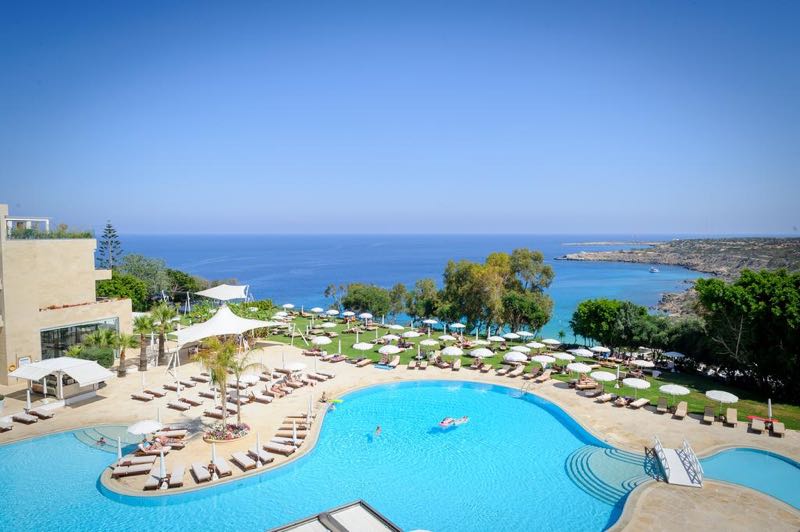 The room was amazing, especially the view!!! Don't consider taking a room without a sea view…
Liked every moment; from the moment we arrived and the kind reception received, to the…
I loved the resort. the service was excellent, staff friendly and extremely helpful. They went…
I liked a modern design of the room, its cleanliness, staff was brilliant, very beautiful garden and beach…
We really enjoyed our stay and would recommend it, particularly for families. Lovely setting…
A very well run resort with good facilities and very close to beach. Ideal for families…
awesome food, great see view, nice evening activities in the hotel, very friendly and helpful staff…
The hotel was very nice, the staff were very friendly and pleasant. Food was great too. It was perfect…
Exceptional host who went out of his way to accommodate all our needs from locating us on arrival…
Very good villa: 2 isolated bedrooms with private showers and toilets, well-equipped common area…
Very well equipped villa in a good location if you want to be near all the amenities. Very close…
Great location, close to the beach. Loved the kitchen. The pool – my child was in love with it…
The size, the cleaning, the facilities, the close to the beach, the pool. In one word every thing…
Great location, Villa had everything you could need. Friendly host. Very clean. Fantastic holiday…
Exceptional! Will come back for sure. Fantastic service from the staff. 10 stars all the way…
Modern apartment with a nice balcony. Excellent location, just outside the busy city center…
Book Villa Ariana via our link below for minimum 7 nights from June till the end of August and Get: Free One Way Larnaca Airport Transfer to the Property
To get the offer email us at info@cyprusbookings.com:
1. Your "Booking Number" from booking.com, to confirm your reservation
2. Your Name, Mobile Number, Flight Number
Our Taxi driver will be waiting for you at the airport with your name on a sign.
Find your Stay on the Map
Protaras Beaches
This is the «beach capital» of Cyprus. The options here are endless and the vast majority of the beaches in Protaras have blue flags. Starting from the dreamy Fig Tree Bay, voted one of Europe's best beaches, there is a stretch of long beaches with golden-white sand and turquoise waters. Almost all of those beaches in this part of Protaras, right in front of the large resort hotels, are always crowded, since they are organised with sun beds and umbrellas, rented by the Paralimni Municipality. Some of them include the Sunrise beach and Vrissiana beach. A few kilometres away, you will find smaller beaches, like Kapparis beach, Agia Triada and Golden Beach that are ideal for families with young children.
On the other hand, if you want something quieter and more serene there is Protaras' other side. The one with the small bays and the hidden coves that are waiting to be discovered. The waters in these beaches are bluer, the sand is darker and beaches such as the Serena Bay are surrounded by trees. Furthermore, if you want to avoid the crowded beaches, you can spend your day at the remote Glifades and Nisia Beaches, the Pernera Beach or at the beautiful Green Bay. Of course, agreed by many, the most beautiful beach in Protaras Area is Konnos beach. Situated in a small cove, this beach, surrounded by trees and rocks, Konnos beach is an idyllic place, perfect for swimming and sunbathing. And although it is always packed, it is worth checking it out and have a coffee at the kiosk overlooking the sea.
Protaras Restaurants
You will be spoilt for choice in Protaras. In the area you can find traditional taverns serving authentic Cypriot cuisine. From «souvlakia» (kebab), «ofton kleftikon» (lamb meat slow cooked for hours in the plinth oven), to the traditional Mezze consisting of many little plates, as well as some very good fish taverns serving fresh fish and seafood, located just a few metres away from the beach. On the other hand, in all of Protaras, but mainly in Protaras Avenue, Pernera and Capparis areas, there is a really good variety of restaurants serving international cuisine. Some of the options include, Italian, Greek, fish 'n' chips, Japanese, Chinese, Thai and fusion cuisine, while there are also excellent steakhouses, burger joints and lovely pubs serving gourmet pub food.
The choice of restaurants in Protaras covers all budgets. From the lower price places to the more high end ones. Note that, many of the restaurants, especially those, near the beaches, are open throughout the day, while some other ones open around 5-6 in the afternoon. In Protaras, there are also some good pastry shops and ice cream parlours, nice cafes and bakeries, to take away food or pastries for the beach or home. Finally, in nearby Paralimni, there are some of the best traditional taverns in the Famagusta Area.
Protaras Bars & Clubs
Protaras has been an up and coming party town in the past few years. During the night this resort town is being transformed into a party town. Along its main road, the Protaras Avenue, there are quite a few bars, pubs, clubs, karaoke places and even a «Magic Dancing Waters» show! Mind you, Protaras is nothing like the town of Ayia Napa that is world famous for its dance clubs and events.
If you want bars serving cocktails by the beach in beautiful surroundings, lounge bars playing ethnic and ambient music where you can enjoy your drink and smoke shisha, or places with live rock or pop music chances are you will find more here than in the town of Ayia Napa. Most of the bars and pubs, in Protaras Avenue and in the other areas such as Pernera, stay open until 2am. The same goes for the bars in Paralimni town.